Recently, I embarked on the Mail Challenge: Writing 10 letters to 10 different people. This challenge was a fun way to show my loved ones how much they mean to me. The Mail Challenge was indeed a bit of a challenge, but it was worth it! I learned, discovered and rediscovered new things while making thoughtful letters to the ones I love. Here's ten things I realized after completing the Mail Challenge.
1. Stamps are more expensive than I thought
I'm not sure why I imagined that a pack of stamps would be around five dollars, but I was shocked when I found out they weren't. I paid 15 dollars for 20 stamps. I'm not sure if the stamps were a little bit more expensive because I got the kind with flowers instead of the American Flag, but nonetheless they were pricey. 75 cents for one stamp seems like a lot to me. I'm not saying all stamps are 75 cents, but the ones I bought must have been since it cost 15 dollars for 20 stamps.
2. Coming up with a list of ten people to write to is hard
I will say I did have a feeling beforehand that it would be difficult to come up with ten people to write to, so I'm not sure if this is technically something I learned. However, I will say I was right. It was hard to come up with ten people. I mainly ended up writing letters to my family. I wrote seven letters to family and three letters to non-family.
3. Writing ten letters was easier than I thought
I was so worried before I wrote the letters that I wouldn't be able to fill the whole page. I thought that I would end up only able to write half a page for some people or even worse, a couple of sentences. This fear turned out not to be true. I wrote about a full page to almost everyone that I wrote to.
I found that it was easy to write when I was open to sharing information. I wrote a little bit of something related to the person or I asked questions, and then I would share about myself. I told people about things that happened recently or about my life goals. It also happened that a couple of people I wrote to had birthdays that had recently passed or birthdays coming up, so I was able to wish to belated happy birthday and one early happy birthday. I was also able to take the time to tell a lot of people that I loved them.
4. Staples has overpriced stationery letterheads
Okay, I don't know if you have a Staples where you live, but I have some where I live. Staples is a store that sells office items and apparently overpriced stationery letterheads. I went to Staples to buy cute stationery letterheads for the letters I wanted to write, and I saw that they were priced at between 9.99 to over 10.00 dollars. Maybe around 10.47. Anyway, instinctively I knew that they were overpriced, so I didn't buy them. Well, the next day I went to a different store and found very similar, if not the same letterhead at almost half the price!
5. Finding all the supplies you need can be a challenge
I had to go to multiple different stores before I found cards and envelopes that were right for me. Unfortunately, I wasn't able to find the wax kit that my mom used for my birthday two years ago, so I had to go to two different stores before I found the letter wax and letter stamp.
The first place I went for stamps didn't sell any, so I had to drive to a different store. As mentioned before, Staples had overpriced letterhead, so I ended up buying the letterhead at the store I thought had stamps, but didn't. However, I did find the ribbons that I bought at the same store I bought the cards and envelopes, so that was a plus.
6. Decorating the envelopes was fun and a little dangerous
I bought blue wax to put on the back of my envelopes and I pressed them with dried flowers and a stamp that was designed with little leaves. I then decorated the front of the envelopes with ribbon and I put bows on a lot of the envelopes as well. I was very impressed that I didn't really burn myself with the glue gun. The most dangerous part was definitely lighting matches to put on the wicks of the blue wax candles. I made sure to be cautious while burning the wax and thankfully didn't hurt myself. Overall, I really enjoyed making the envelopes because they turned out so beautifully.
7. I can mail and make beautiful envelopes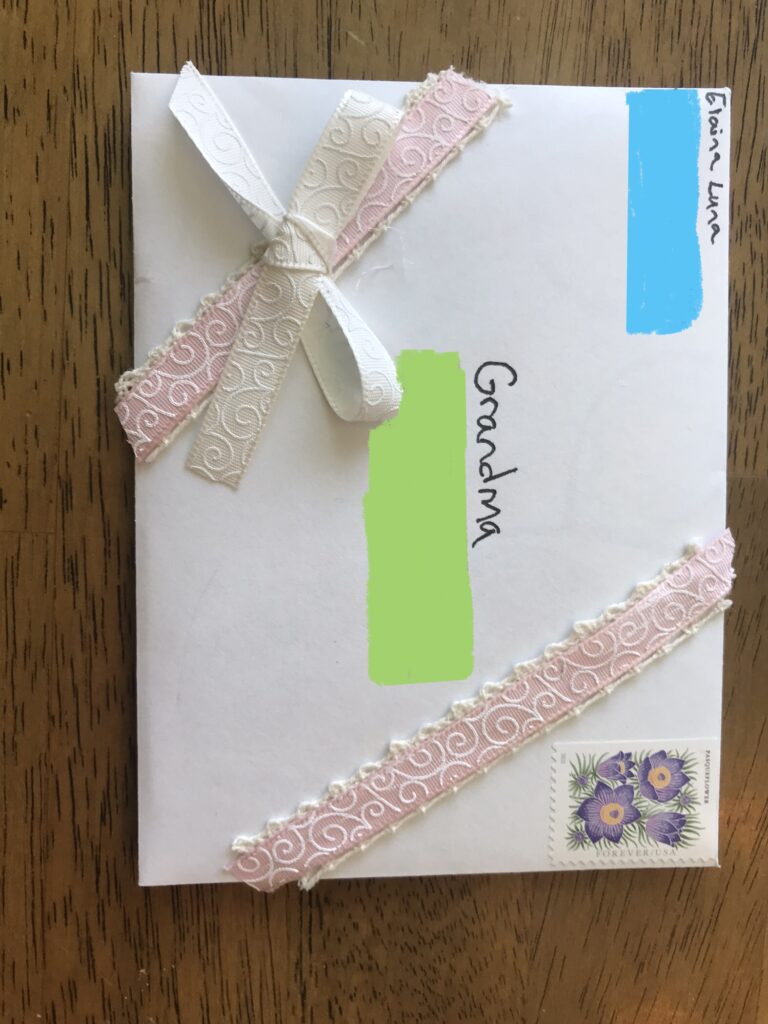 I was a little worried that the mailman wouldn't take my envelopes because they had ribbon and bows on top, but he did! I haven't gotten them back in the mail saying they couldn't be returned, so hopefully they can be! My envelopes turned out so beautiful and they were easy enough to make. I will post a picture below to show as an example of how wonderful they turned out.
8. I want to make similar envelopes for my wedding
I liked the way my envelopes turned out so much so that I think I will probably decorate the envelopes for my future wedding in a similar fashion. I would like to give credit to Mia Maples, a YouTuber who created DIY wedding invitations on her YouTube channel for her inspiration. Her video entitled DIY My Dream Wedding Invitations With Me! Wax sealed & pressed flowers gave me the knowledge that I could put dried flowers in wax. Mia's video also gave me some inspiration to make aesthetically pleasing envelopes for the letters I wanted to send out for the Mail Challenge.
After looking at my letters in the mail box or maybe sometime before then, I realized that my envelopes would be great to hold my own future wedding invitations because they looked really nice and were rather easy to make.
9. I made less writing errors than I thought I would
Even though my degree is in English, and I have been an ELA teacher, I figured I would have a hard time spelling certain words. I honestly thought going into writing my letters that one thing I would have learned was that I can't spell words as well as I thought I could. However, I did just fine spelling. I only had to get spelling confirmation on a couple of words.
My main mistakes came from writing so fast that I accidentally used a letter that I didn't mean to. For example, if I was writing really fast maybe I would put a letter m in the word I was currently writing because the next word was going to be my. Another example might be I put an a instead of an o and it would be an easy fix. For the most part, I knew how to spell the words, I would just accidentally misspell a word because of human error or pacing.
10. A lot can happen between placing your letter in the mail box and the mailman picking it up
I wrote my grandma a long letter explaining to her how a phone interview didn't go well. Later in the day, before the mailman came to pick up the letter, I got a text message asking for an in-person interview. The man I spoke to one the phone gave my information to woman within the company who could help me find a position.
After receiving the text, I went to the mailbox with a pen and on the back of the envelope I basically told my grandma that the letter inside was irrelevant because the guy sent my information to a woman who has multiple positions open for the position I was looking at.
Is it worth it to send out letters?
I personally would love it if more people started sending out letters back and forth. Yes, some information within the letter can become outdated, but it's still fun. Also, some of the things you say probably won't ever be outdated, like writing down "I love you." I know for me sometimes I forget to update some of my family members or even my best friend on certain life events and that's when a letter can come in handy. I think a letter is worth sending out, but it might not be worth it for everyone, and that's okay.
If you want to write someone a good kind or supportive letter then I say go for it. Writing letters can be fun and also relaxing. When I was writing the letters, I was focused on the person I was writing on and on what I wanted to say. I think writing a kind letter is very intentional and shows someone how much you care for them. Writing a letter isn't as quick as sending out a text, but that's a part of what makes it so special. A friendly letter is both a thoughtful gift and form of considerate communication.
Update: Two letters have been officially received! Both my aunt and my uncle's wife loved their letter! Unfortunately, two of my letters came back in the mail. The sticker on top said it would be an additional 30 dollars to post it! Unbelievable. The ribbons and bows are lighter than packages worth thirty dollars to ship. Oddly enough some of the letters are getting sent and some are not. Hopefully more letters get sent out.